Prevent broken glass, vandalism, and theft with Talius Rollshutters or Vandal Panels™
Broken windows and graffiti are costly crimes of opportunity
Commercial and institutional properties are most commonly the targets of vandalism. Talius Rollshutters and Vandal Panels™ have provided reliable protection for property owners for over 40 years.
By combining purpose with appearance, Talius Rollshutters provide attractive vandalism protection for commercial, institutional, and residential properties. They roll up neatly out of view in the open position and blend seamlessly with your property in the down position to create a solid barrier against vandalism and other crimes of opportunity. 
Talius Vandal Panels™ are fixed panels designed for locations where space is too limited for a rollshutter. They also make a great solution for small windows such as transom windows and door lites. 
Both Talius Rollshutters and Vandal Panels™ can be protected from Graffiti with an optional application of Talius Anti-graffiti coating which makes removing materials such as paint, crayon, and markers fast and easy. 
Read further to learn more about each of these effective vandalism protection solutions.
Each Talius rollshutter is custom-made for every opening to ensure a perfect fit and provide a long-lasting solution to protect your property from property crime.  
Made from superior strength aluminum with stainless steel components, rollshutters are lightweight yet strong and durable. Our exclusive components and built-in locking features prevent would-be intruders from accessing the mounting fasteners and prying up of the rollshutter curtain. 
Features:
manual or motorized operation with individual or group control
building automation system compatible


maintenance-free design
Choose from our 5 stock colours (some exceptions apply) or from over 1800 custom colour options to blend seamlessly with your property.
Additional benefits:
Energy-efficient – Talius rollshutter profiles are insulated and reduce on-demand cooling and heating energy use, your carbon footprint, and your energy bills.
Storm Protection – Rollshutters protect windows and doors from flying debris and strong winds and can be deployed quickly and easily in the event of a storm.
Visit talius.com/products/rollshutters to learn about all the benefits rollshutters provide.
& stand out from the rest with
Print any image directly onto the rollshutter surface and turn your window coverage into an excellent marketing opportunity.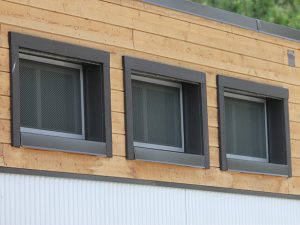 Talius Vandal Panels™ are a perfect solution to protect small exposed windows where mounting space is too limited room for a rollshutter. Commonly used for transom windows, side-lites, and door-lites, they are fixed aluminum panels with circular perforations that blend into the background when viewed at a distance to provide an unobstructed view.
Vandal Panels™ are an excellent alternative to window bars which are unattractive and decrease occupant morale. 
Talius window green or window grey stock colours blend best with the background making our Vandal Panels™ appear invisible to the eye. However, they too can be custom painted to match your decor perfectly.
Protect your Rollshutters and Vandal Panels with
Talius Anti-Graffiti Coating
Talius Anti-Graffiti coating is a one-time application that provides outstanding resistance to chemicals and a durable abrasion resistant surface to minimize scratches.
Simply wipe away graffiti with soap and water and eliminate the use of hazardous cleaning products.
Ideal for high-traffic locations or anywhere that may be the target of property crime.