Rollshutters create an effective barrier against
vandalism, break-ins and theft.
Rollshutters protect your windows and doors and the contents safely stored behind them.
Property crime is on the rise and the fastest entry method intruders seek is commonly through vulnerable windows and doors.

For over 40 years, Talius rollshutters have protected property owners from break-ins.
Rollshutters roll up neatly out of view into a overhead panel box and blend perfectly with your building design. Made from superior strength aluminum with stainless steel components, they are light-weight yet strong and durable for a long-lasting security solution.
Choose between a variety of rollshutter profiles to match the security solution you need. Talius' rollshutters are custom made specifically for each opening to create a perfectly enclosed security solution. Our exclusive components and built-in locking features prevent access to the mounting fasteners and prying up of the rollshutter curtain. Talius' Safe Mini security profile is the strongest insulated security slat in the industry with a high density, hard resin core.
Rollshutters are operated by manual or motorized control, and can also be integrated with building automation systems. They are easy to maintain, convenient and a one-time application with a variety of benefits rolled into one. Visit our rollshutters page to learn more. Tested against excessive force, our rollshutters ensure your property and its contents remain safe and secure.
& stand out from the rest with
Print any image directly onto the rollshutter surface and turn your window coverage into an excellent marketing opportunity.
Often left unoccupied for long periods of time, a residential property provides an easy target for would-be intruders.
Alarm systems and cameras can only deter a potential intruder but will not prevent them from damaging your property or worse, gaining entry.
Rollshutters provide homeowners with peace of mind while away at work, on vacation or just out for an afternoon stroll.
Not only do rollshutters secure and protect your property, they offer many other benefits as well. Visit our energy efficiency page to learn more.
Occupant safety is the primary concern for institutions under a potential threat. Talius rollshutters are motorized and can lock-down your facility in just moments with the flick of a switch or touch of a button.
Save money and reduce maintenance costs with a one-time installation of our rollshutters.
Protect exposed glass from vandalism and deter against break-ins and theft.
Eliminate the need for costly emergency glass clean-up, window repairs, glass replacement, and stolen property.
Talius Rollshutters have been chosen by countless businesses as their trusted security solution. They can be found protecting jewelry stores, commercial storefronts, gas and convenience stores, pharmacies or any property at risk of vandalism, break-ins and theft.
Motorized operation makes closing time simple with remote control or the use of a switch. Building automation systems can also be integrated for even greater convenience.
Use your rollshutters as a marketing opportunity with custom graphics printed directly on the rollshutter itself. Protect them from graffiti with our special graffiti coating. Scroll down for more information.
Talius Anti-Graffiti coating is a one-time application that provides outstanding resistance to chemicals and a durable abrasion resistant surface to minimize scratches.
Simply wipe away graffiti with soap and water and eliminate the use of hazardous cleaning products.
Ideal for high-traffic locations or anywhere that may be the target of property crime.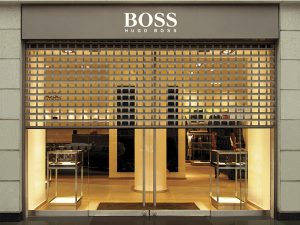 Talius Safe View rollshutters are sleek and sophisticated see-through security designed specifically for shopping malls and storefronts. Showcase products 24/7 while knowing your property and its contents remain safe and secure.
Safe View rollshutters are available in two different styles and can be customized to the combination of your choice. Made from light-weight, superior-strength aluminum, these rollshutters will look just as good in years to come as they do the day they are installed.
To learn more about our Safe View rollshutters, visit our rollshutter page.
Testimonials from a few of
our happy customers
"A great company to deal with from the day of the quote to the completion of the job. Customer service was amazing, when Curtis came out to do my quotes, he was always understanding and not pushy at all, he kept me in the loop throughout the entire installation process and his team perfectly installed the roll shutters on several of our storefronts. Talius is a pleasure to deal with, they are professional, punctual and we are extremely happy with the finished product. Will recommend them to anyone looking for Roller Shutters."
– Kevin Infanti, BCLDB
"I've been working with Talius since 2010. As a convenience retail and cannabis retail business, it is important to have maximum security. Talius Shutters are a great one time investment and provide me with a peace of mind. Since the installation of their shutters, we have never had any break ins nor attempts of break ins. Talius is always helping us with technical issues. They will either send someone to assist us or walk us through it over the phone. Even the owner of Talius took our call at 2AM to assist us once. Most of the time the issues are not because of the shutters but because of us.
Talius has the option of security you need to run your business. They are a reliable company. If you need security, think Talius."
– Sutha, Director of Express News Convenience & The Local Leaf Cannabis
"We chose to go with Talius as our contractor as their product was the best on the market. From initial meet right thru to completion we had no issues. I would highly recommend choosing Talius for your next project."
– Mark Wapples, Langley Events Centre