ESG is shaping the future.
Sustainability without compromise.
It is our mission to provide Cleantech solutions for a sustainable future
As a purpose-driven company, we believe in creating high-quality, energy-efficient solutions, and we believe in doing it responsibly.
ESG is a measurement of our commitment to the environment, workplace practices, diversity, and corporate fiscal responsibility.
Talius has embarked on a mission to elevate our ESG corporate rating and become a leader in the ESG community. Our senior management team has already begun collaborating on new ESG initiatives that will position Talius as a cleantech company focused on a sustainable future.
recycles aluminum waste from our manufacturing process
is reducing our carbon footprint by upgrading equipment, lighting, vehicles and processes
is an employer that continuously works toward creating the best place to work for our team members
employs a diverse group of talented team members who share the vision of building toward a sustainable future.
Our goal is to maintain a competitive advantage in the construction and investment communities by continuing to deliver innovative solutions for the building envelope that help combat the effects of climate change
Minimizing our footprint while promoting energy-efficient solutions
As a company providing Cleantech solutions, we are committed to minimizing our environmental footprint in our operations by conducting our everyday business practices sustainability and responsibility. We are doing this by:
Waste reduction through aluminum recycling from our manufacturing process
Going electric with our commercial fleets
Promoting clean and energy-efficient solutions to our customers
Working with our suppliers to reduce the environmental footprint of our supply chain from raw material sourcing to packaging and material waste
Our environmental commitment will be launched in late 2022. Stay tuned for updates.
Investing in our people and communities
Our purpose and principles guide us in what we do. We are committed to being an inclusive company that values and supports all dimensions of diversity, and assuring a safe and healthy work environment. At the same time, we believe in empowering our employees to be positive agents for change within their respective communities. Moreover, we consider the quality and safety of our products to be top priority and commit to keeping the highest standards at all times.
Our goal is to be the best place to work for our employees by fostering inclusivity and embracing diversity. We pay competitive wages and aim to provide opportunities for learning and development
Ensure health and safety for our workers by implementing the highest standards of operations with the aim of continuous and sustainable improvement of the work environment
Supporting the local communities in which we operate. We are a proud company with roots in the small town of Salmon Arm, B.C.
Conducting our business with the highest ethical standards
At Talius, we don't just talk ESG, we act on it. Our key performance indicators stretch beyond financial success but incorporating ESG targets as well. Talius' board has the overall responsibility for ESG oversights and everyone on the senior management team is committed to adapt and implement ESG strategies.
Talius is owned by UpperStage.Capital, a private equity firm that operationalize ESG for long-term performance, advantages, and success.
Our most recent achievement is the successful launch of our newly developed Energy Calculator
To learn more about the Energy Savings calculator or to try it out, click here.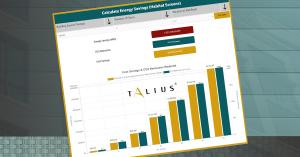 Talius launched the energy savings calculator after recognizing a need in the construction industry for a tool to measure the potential impact Talius exterior-mounted products can have on a building's carbon footprint. Since Talius' products can reduce the heat absorption of a building directly exposed to sunlight by up to 50%, the savings results can be surprising as well as educating for developers challenged with building for a sustainable future.